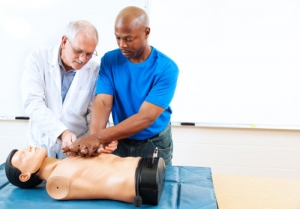 Medical Training Institute of New York provides high-quality and exciting training programs which motivate staff to implement their learning with enthusiasm and efficiency in their workplace. We specialize in helping non-medically trained staff to understand medical terminology whether encountered through doctor's reports, prescriptions or investigation results.
As a leading medical training center in New York, we are on top of the latest advances in medicine committed to maintaining a high level of ability and scholarship among medical professionals. We offer a healthy program of continuing medical education courses that enhance the knowledge, skills, and professional development of individuals already involved in the practice of medicine as well as non-medically trained staff.
Our Mission
Medical Training Institute of New York aims to be the premier producer of top-notch medical service personnel in the health care industry. In this light, we see to it that all programs provided are concept-wise, with internationally recognized syllabus. We implement these programs through a team of dedicated faculty, and direct all these endeavors to building a firm foundation for students through which their skills, knowledge, and aptitude can be employed to serving the broader industry in the future, whether in care homes and assisted living facilities, home health care, hospitals, laboratories, etc.